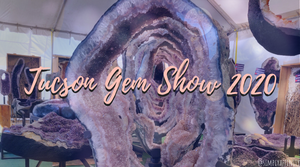 Tucson Gem Show 2020
For the last three years, I have started off the new year going to the largest gem show in the world, the Tucson gem show! Tucson 2020 was INCREDIBLE, with over 50 different gem shows taking over the city of Tucson. Every hotel, motel, convention center, and sports arena turns into the gem show with thousands of vendors from all over the world! There were so many astonishing pieces at the show, and I feel very blessed to be able to share a drop of the magic with you all! 
Just one of the amazing gem shows in Tucson
I had such an amazing time at the Tucson Gem Show! As I continue to update the shop with new goodies, I wanted to share a bit of my experience with you all. So, here are some photos that I snapped during the trip. I hope that you enjoy! Leave me a comment below with your favorite photo! :)
Sunset at the Tucson Gem Show
I found some incredible gems, and got the chance to introduce brand new gems including some amazing
Euphoralite
from the magical mountains of South Dakota. 
I got to meet the man who discovered 
Euphoralite in 
the magical mountains of South Dakota! Gary mines and cuts, and polishes all of his 
Euphoralite!
One of the most beautiful Tucson 2020 experiences was going out to the desert to soak in the beautiful snow moon. I have never seen the desert so bright in the middle of the night! It was incredible to see the biggest full moon of 2020 in the stillness and beauty of the moonlit desert. 
The 2020 Snow moon over the Tucson desert.
View of Tucson's city lights from the desert. 
Magical Amethyst portal!
I had the chance to bring some beautiful smaller specimens of Australian Boulder Opal to share with you all. It was amazing meeting these lovely Australian opal miners, and their friends that help them out from Tucson!  
Gorgeous Australian Boulder Opal!  
Incredible Agate table!
A lovely agate bench, and citrine and quartz cluster! 
I could feel the magical energy when I walked into Michal and Company's tent! 
Amazing Selenite and Amethyst sculptures! I brought back some of these beauties to share with you! 
Thank you all for following my shop! I feel so blessed to be able to bring back little pieces of magic from the largest gem show in the world. It brings me so much joy to share these beautiful gems with you!
---
2 comments