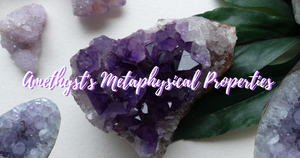 The Metaphysical and Healing Properties of Amethyst
The Metaphysical and Healing Properties of Amethyst
Relieves Stress
Relieves Anxiety
Boosts Creativity
Balances Emotions
Improves Memory
Improves Motivation
Amethyst is the ultimate stone for stress and anxiety relief, and is extremely beneficial to the mind. It helps us to find our passions by refueling our creativity. It is a soothing, yet invigorating stone. Because it fuels our creativity, it creates an outlet to soothe our stresses and anxieties. The longer you work with amethyst, you may find yourself starting a new hobby, or revisiting an old one.
While allowing you to set realistic goals, Amethyst can also give you the get-up-and-go that you may need to start a new endeavor. If you find yourself lacking motivation, amethyst may be the stone that you need to give you that extra push.
Amethyst can help us to make clearer decisions - whether you are struggling with work related decisions, relationships, or the bigger picture, Amethyst is there to help clear the mind. Amethyst is a wonderful stone to increase memory. It can also soothe an overactive mind, making it a great stone for those that suffer from insomnia, and recurring nightmares. Amethyst can also help those working to overcome an addiction.
Amethyst stabilizes emotions, increases memory, and allows us to make clearer decisions, making it the perfect stone for the mind. Additionally, it is a great stone for the body, as it is said to tune the endocrine system and boost the immune system.
Amethyst is a beautiful, extremely powerful, and spiritual stone. It encourages selflessness, as well as self-growth. Through motivating our creative side, Amethyst helps us to get back to our "roots," and follow our passions, while allowing us to keep a level head. 
---