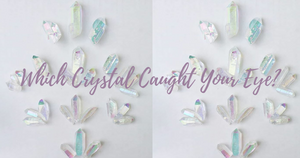 How to Buy Crystals Online
Picking out the perfect crystal online can be challenging. However, it is possible to pick your perfect gem online! Here are a few tricks that can make choosing your stone online a bit easier:
The Intuition Method
Which piece caught your eye first?
This the first question I ask when one of my customers is having a hard time choosing a crystal. Many times, the first piece that you notice is the right piece for you - almost like love at first sight.
Would you like to try this method out? Look at the pictures below, and see which piece grabs your attention first. This may be the piece for you! If none of them grabbed your attention, or you didn't feel a connection, then it is time to keep searching. It is a good idea to go with your intuition or gut feeling when picking out a stone.
 Metaphysical Properties
What are the metaphysical properties of the stone? Will those properties help you in the current path that you are taking in life, or maybe help you get to where you hope to be? Most shops will include the metaphysical properties of a stone in their descriptions, and it is a great way to gauge if the particular stone that you are thinking about purchasing will be a good companion gem. Metaphysical properties of stones have been assigned certain healing properties over history through experimentation and documentation of the different effects of stones. Some stones may work for one person's journey to healing, for example, Celestite may help someone overcome stress. However, it may not have the same effect for someone else. The effects of stones are unique to everyone, and that is why you may be intuitively attracted to one stone versus another.
Pictures & Videos
When shopping online,  it can be hard to imagine exactly how a stone will look in person. One of the best ways to make sure a stone is right for you is to view all of the available photographs or videos that accompany the stone's listing. Many shops are even happy to take a video of the pieces that you are interested in to help you with your choice. It never hurts to ask for more information, photos, or videos to help you with your choice. At Simply Affinity, we are always happy to take additional photos, videos, or answer any questions you may have.
With gemstones, it is important to intuitively pick a stone that be an aid in your journey.  I hope that this little guide will be helpful when you are looking to add to your crystal collection from online shops!
Much love,
Evie
---
1 comment